Welcome to the Big Lake Chamber of Commerce & Industry
The Big Lake Chamber of Commerce is located in Big Lake, Minnesota off of Highway 10. We are a on-profit membership organization that exists to help the local business community thrive. Whether your business is large or small, we are here to help you through various networking, marketing, and learning opportunities.Our Mission: We are committed to the success of the Big Lake Business Community through information, communication, cooperation, and support for all.
Thank you to our sponsors for helping to make this website possible:

http://RyanBenjamin@edinarealty.com/
http://www.lupulinbrewing.com/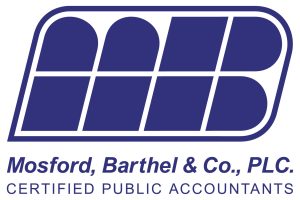 2020 BIG LAKE POLITICAL CANDIDATES FORUM
We thank all those who attended the Big Lake Political Candidates Forum on Monday, October 19, 2020 at Big Lake High School to meet our local candidates and listen to their priorities. We especially thank all the candidates for their time and enthusiasm in running for the various races and Chamber member and DATA
Success
owner Kevin Thompson for moderating the forum.
Here
is the link for the recording of the Forum, produced by Sherburne Wright Cable Commission.
For ease in watching the recording, the candidates (listed as seated during the forum from left to right) and the schedule include:
MN Representative District 30A at approximately 5:44 minutes into the recording: Chad Hobot & Paul Novotny
MN Senate District 30 at 26:51 minutes: Mary Kiffmeyer & Diane Nguyen.
Big Lake City Council at 49:39: Ketti Green, Sam Hanson, Ken Halverson, Paul Seefeld & Alan Heidemann.  Ketti & Ken are running for a 2-year term while Sam, Paul & Alan are running for 2 open seats that are 4-year terms.
Big Lake Mayor at 1:27:41 into the recording: Paul Knier & Mike Wallen.
Big Lake School Board at 1:45:27: Barbara Chaffee, Tony Scales, Amber Sixberry & Lori Kampa (Katelyn Bland wasn't able to attend and her statement was read). They are competing for 3 open seats.
Big Lake Township at 2:20:08: Bruce Aubol, Mark Hedstrom, Eric Rosa & Dean Brenteson (Judy Wilts wasn't able to attend and her statement was read) .  Bruce is running unopposed while Eric & Dean are competing for Seat 1 and Mark & Judy for Seat 4.
U.S. Congressional District 6 video voices at 2:49:35: Tawnja Zahradka & Tom Emmer.
Due to network connectivity, our live Zoom link failed after the first hour and we were unable to show the full videos of our US Congressional District 6 candidates.
We thank Big Lake Schools for hosting us as well as all the volunteers who helped at the Forum.
Please vote on Tuesday, Nov 3rd from 7 am-8 pm at your local precinct. Voters can also request an absentee ballot application
here
and clicking on the Voter and Election tab in the upper right corner. Ballots can be returned by mail, dropped it off at Sherburne County Courthouse during their business hours or at their secure, outside election drop box featured below until 3 pm on Nov. 3rd!
COVID-19 RESOURCES
BUY LOCAL!  TAKE-OUT LOCAL!  With the Governor's Executive Orders to close dine-in services along with restricting other businesses to stem the spread of coronavirus disease (COVID-19), check out take-out hours, contact info and other pertinent information from our members here.
Minnesota Chamber has a COVID-19 Business toolkit here that is full of resources and updates for you.
City of Big Lake's website here also includes local, state and federal resources for you.
MARCH BUSINESS AFTER HOURS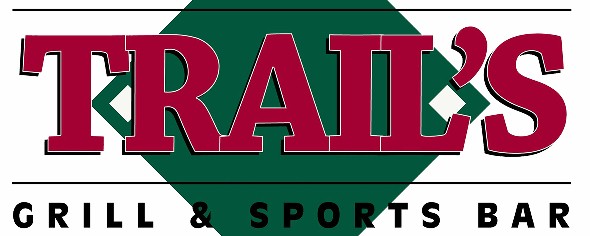 JOIN US for our monthly Business After Hours on Thursday, March 18th at 5 pm at Trail's.  Our February Business after Hours has been cancelled. Great networking opportunity in a small group setting as we will observe COVID-19 guidelines of 6 persons/table!  There is no charge but please register here by 2 pm to allow enough seating.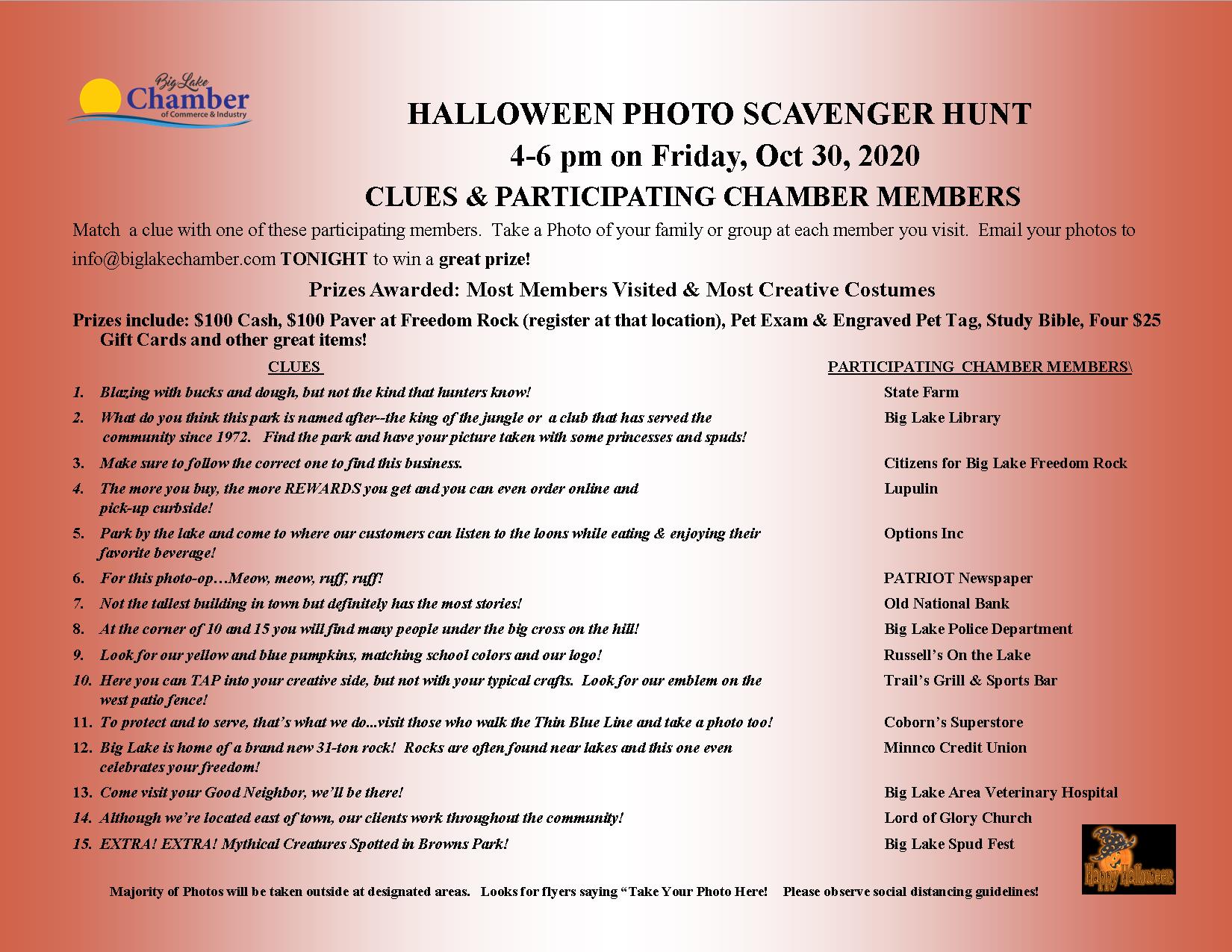 HALLOWEEN PHOTO SCAVENGER HUNT: Friday, Oct 30 from 4-6 pm
Our First Halloween Photo Scavenger Hunt was a success!
Nine entries submitted photos of their stops at 15 participating Chamber members and they each won a prize!  Seven of the 9 entries went to all 15 members.
We thank the participants who dressed up in great costumes, our members who hosted the hunt and those who donated prizes.
Prizes Awarded: Most Members Visited & Most Creative Costumes
Prizes include: $100 Cash, $100 Trails Gift Card, $100 Paver at Freedom Rock, Pet Exam & Engraved Pet Tag, Study Bible. $25 Gift Cards, selection of books and other great items.
CONGRATULATIONS to our 2019 Member of the Year winner:  Great River Spine & Sport-Dr. Scott Schulz.
Great River Spine & Sport-Dr. Scott Schulz was selected by fellow members and the award was announced at the Chamber's Holiday Social Dec. 12th.
Here is the video link on the award presentation by sponsor Cabot Lodge Securities-Paul Knier.  The video was produced by Monica Parrish of Bullseye Properties.
Members can vote for the 2020 Member of the Year until Nov. 25th.  The winner will be awarded the prize at the Dec. 8th Board meeting!
Join us for our February 23, 2021  MEMBERSHIP MEETING! 
Join us for our February 23rd Membership Meeting at the Community Room next to Big Lake Police Department as we hear the latest from Sherburne County. Registration is at 11:30 with pizza from Primo Pizza. Announcements and introductions begin at noon. Our presentation begins at 12:15 with our Sherburne County Commissioner Raeanne Danielowski introducing our speakers. Administrator Bruce Messelt will update us on county activities and Assistant County Administrator Dan Weber will discuss the Entrepreneur Lab and the county's business relief grants. Members can attend in-person or virtually. Cost for lunch is $15 for a variety of pizza, crazy bread, strawberry & apple strudel, pop and water.  Please register here by 1 pm on Monday, Feb. 22nd. Note the change in location from previous announcements. Guests are welcome!
Phone: 763-263-7800
Fax: 763-263-7668
E-mail: info@biglakechamber.com
Located in NW Corner of City Hall
160 Lake Street N
PO Box 241
Big Lake, MN  55309
Office Hours: Monday-Thursday 8 am-2:15 pm or by appointment